The coming decades are expected to be extremely challenging for organizations. On the one hand, there are the United Nations Sustainable Development goals to end poverty, protect the planet and improve the lives and prospects of everyone. On the other hand, organizations are
expected to have to deal with an increasing number of megatrends and disruptors, many of which are already having an impact. To help organizations in their priority setting and decision-making so they can contribute to the development goals (specifically Goal 8: decent work and economic growth), a descriptive literature review was undertaken to identify which megatrends and disruptors will impact the future of organizations and in what ways they are expected do this. From the literature, thirteen megatrends and one disruptor emerged, and for each of these their postulated impact and consequences for organizations as described in the literature were gathered. The study reveals that
there is ample attention given to megatrends in the academic literature but that not much can be found about dealing with disruptors. As a consequence, academic literature currently falls short in suggesting ways in which organizations can deal with disruptors. Managerial literature offers more suggestions in this respect.
Keywords: future of work; megatrends; disruptors; organizational performance; future-readiness
Introduction: Megatrends and Disruptors
This decade is expected to be extremely challenging for organizations. On the one hand, there are the United Nations (UN) Sustainable Development Goals [1], a universal call to action both to the general population and the business world; to end poverty, protect the planet and improve the lives and prospects of everyone, everywhere. For this, an ambitious agenda of actions has been agreed which must be achieved by 2030. At the core of the 2020–2030 agenda is the need to tackle growing inequalities, empower women and girls, and address the climate emergency [2]. A specific call is made to the business community to contribute to achieving this agenda. On the other hand, organizations are expected to have to deal with an increasing number of megatrends and disruptors, many of which already have an impact. These megatrends, such as rapid technological progress, demographic changes and the rise of the platform economy, and disruptors, in particular the recent Coronavirus epidemic, are triggering potentially exponential changes in the way organizations are going to function [3,4]. Our research question, therefore, is: How can high performance organizations (HPOs) address megatrends and disruptors in such a way that they can secure sustainable performance and at the same time work on the UN sustainable development goals?
One would assume that an HPO, defined as "an organization that achieves financial and non-financial results that are exceedingly better than those of its peer group over a period of five years or more by focusing in a disciplined way on that what really matters to the organization" [5], p5, is ideally positioned to deal adequately with megatrends and disruptions. After all, in general these megatrends and disruptions are diffcult to manage for organizations as they often require modified or even completely new business models and ways of working, which is diffcult for many organizationsb to achieve, especially on short notice [6]. In contrast, HPOs are known to be well able to cope with changing circumstances because of their flexibility and adaptability and can thereby be assumed to be able to better deal with these megatrends and disruptions [7]. However, there is an issue with this assumption. The HPO literature indicates that the above is especially true for short-term challenges, as this type of organization is very agile and can adapt quickly to problems and opportunities that pop up either internally or in the external environment. This adaptability is not necessarily suited for changes that (often gradually) take place over a longer period of time (the megatrends) or for short-term sharp changes with high impact (the disruptors). In addition, most of the literature on HPOs is backward
looking, i.e., it mainly looks at what organizations have done (past tense) to deal with current changing circumstances to become high-performing. It barely addresses how these organizations can, or have to, deal with longer-term changing circumstances, specifically with megatrends and disruptors [6].
To address this gap in the literature and help HPOs to better prepare for future developments, we decided to start a study with the goal of identifying how HPOs should adapt to megatrends and disruptors in such a way that they will remain high-performing and as such contribute towards achieving the UN sustainable goals. Our research will take place in two phases. In the first phase, we review the literature to identify the megatrends and disruptors which are already appearing or are expected to perhaps appear, and to identify what the current literature tells us about what effects these megatrends and disruptors will have on organization structures, processes and behaviors.
Our sub-research question is therefore: What are the megatrends and disruptors that can be found in the literature for which HPOs have to prepare themselves?
In this paper, we provide the answer to this sub-research question. The results of the first phase will set the stage for the next phase in which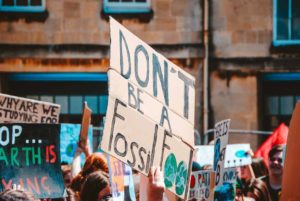 we will match the identified megatrends and disruptors with the characteristics of HPOs, to evaluate their effects on this type of organization and to propose courses of action so they can stay high performing. The results of phase two will be described in a subsequent paper [8], in which we will be able to give an answer to our original research question. Our study will add to the academic debate on the future management of organizations, and specifically HPOs, by providing a starting point for a research agenda on the implications of megatrends
and disruptors on the operation of organizations. From a practical point of view our study will help prepare leaders of organizations, and specifically of HPOs, in their decision-making and prioritization of efforts to deal with the (near and longer-term) future. This way, they will be able to achieve 'organizational sustainability' [9], defined as the result of the activities of an organization, voluntary or governed by law, that demonstrate the ability of the organization to maintain its business operations viably (including financial viability as appropriate) whilst not negatively impacting social or ecological systems [10].
The remainder of this paper is structured as follows. In the next section the set-up and results of our literature review are presented. This is followed by an analysis of these results. The paper ends with a conclusion, research limitations and opportunities for future research…
Read the full paper 'Megatrends and Disruptors and Their Postulated Impact on Organizations' in PDF.